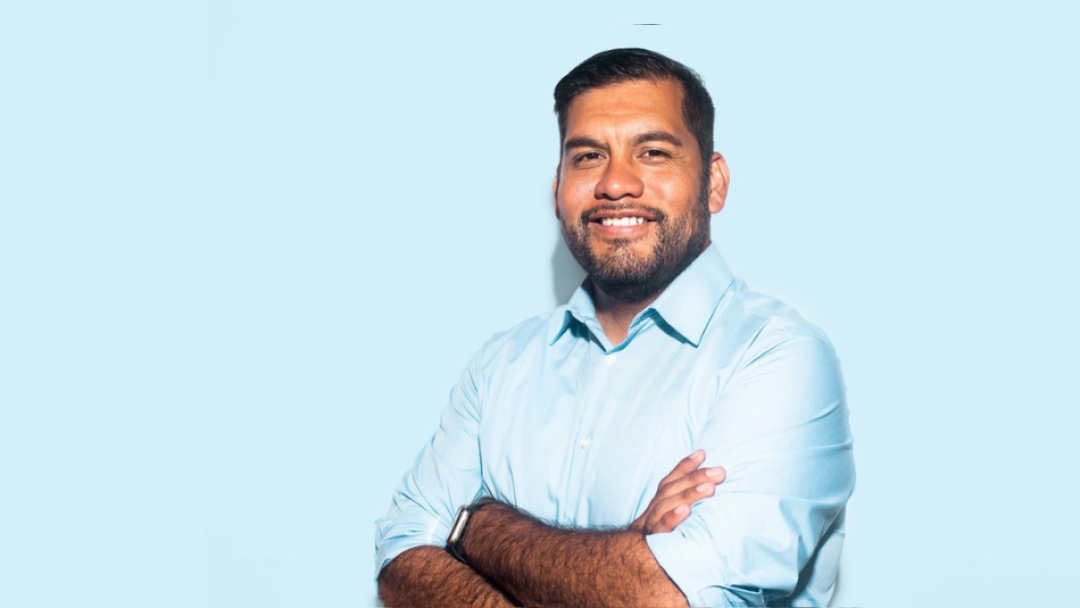 Hugo Soto-Martínez earned his B.A. in criminology, law and society in 2006. He is pictured below on his commencement day with his brother Ivan.
---
UCI social ecology studies fill L.A. Councilman Hugo Soto-Martínez's soul
By Matt Coker
Hugo Soto-Martínez credits his studies in pursuit of the bachelor's degree in criminology, law and society he earned from UC Irvine in 2006 with helping shape his life, his work as a union organizer and his first term on the Los Angeles City Council.
He was born and raised in South Central LA by immigrant parents who worked as street vendors until an injury permanently sidelined his father. His mother switched to janitorial work at Los Angeles International Airport, joined a union and the better pay and health benefits were game changing for Soto-Martínez's family and soul.
Just before graduating from UCI, he was arranging interviews for law school when UNITE HERE began organizing hospitality workers. Soto-Martínez joined the campaign, dropped his postgraduate ambitions and eventually rose to lead UNITE HERE Local 11.
With the support of the Democratic Socialists of America, Soto-Martínez unseated Mitch O'Farrell, the incumbent District 13 councilman, in November and now hopes to be ushering in a new, more progressive era at City Hall. He credits his upbringing, union organizing and criminology studies at UCI with giving him a different perspective on social issues such as housing and policing.
How did UCI land on your radar and what made you ultimately decide to come here?
My high school was ranked as the second most underperforming high school in all of LAUSD. I didn't have the confidence in myself to apply to the UC system when I was doing my college applications, but my guidance counselor encouraged me to apply. UC Irvine was my first choice because I looked into their programs and I liked that their schools were more specialized compared to other UC schools, and that they had the major that I wanted to study, criminology.
Why criminology?
Growing up, I understood that my family was poor. I understood there was a lot of crime in our neighborhood, but I was curious about how these systems of poverty and crime that exist in our world interact, and I wanted to gain a better understanding of these larger systems and my surroundings.
Tell us about your time at UCI?
Honestly, it was very challenging because my high school did not prepare me for the intensity and workload at UCI. I remember feeling very out of place as well because at the time, there weren't many Latino kids at UC Irvine, and even the ones that were there were not from where I grew up, so I always felt a bit like I didn't belong.

Luckily, I found friends that accepted me, along with some professors, like Professor Emeritus [of criminology, law & society and sociology] Henry Pontell and Professor Emeritus [of CLS] John Dombrink, who were very loving and supportive during my time at UCI.
Can you expand on the notion that your criminology, law and society education at UCI played a role in your professional and now political career?
Through my education and digging into criminology studies and research, I found that, ultimately, most crime comes down to lack of social safety net support like having access to good jobs, health care, housing, and stability. That understanding about our unequal system has really grounded the work I did as a union organizer after graduating, and the work I'm doing now on LA City Council.
Has anything drawn you back to campus over the years?
I've visited a few times over the years, but there's a lot of work to do here, so it's been a while since I was able to visit. Once I was driving through the area and just had to stop by and revisit some of the great memories I have of my time there. Hopefully, I can come back soon! Zot zot!