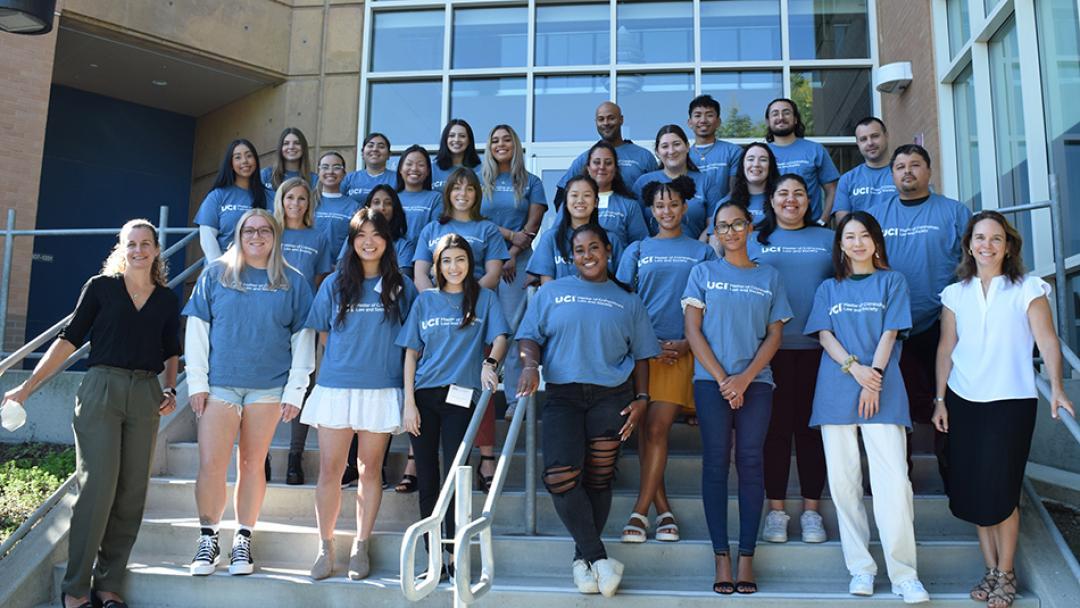 Amanda Geller (bottom left) and Charis Kubrin (bottom right), co-directors of the university's top-ranked online M.A.S. program in the subject, flank some of the 95 students in the current cohort. Photo by Jessica Y. Gutierrez
---
U.S. News & World Report has ranked it best for four consecutive years
The University of California, Irvine Master of Advanced Study in criminology, law and society has been named the nation's best online criminal justice master's program by U.S. News & World Report for the fourth year in a row. The 2023 rankings mark the sixth consecutive year in which the UCI program has placed in the top three.
"U.S. News is recognizing the quality of our M.A.S. program once again, and we could not be more proud," said Jon Gould, dean of the School of Social Ecology. "Our faculty and students continue to lead the nation."
Created more than 20 years ago, UCI's M.A.S. in criminology, law and society was the first online degree offered in the University of California system. It's designed to meet the goals of students seeking leadership positions within their organizations in a range of fields, including corrections, law enforcement, social services, probation/parole and forensic psychology, as well as a variety of public administrative roles.
"To be ranked No. 1 for online criminal justice programs for the fourth year in a row is truly cause to celebrate," M.A.S. co-directors and criminology, law and society faculty members Charis E. Kubrin and Amanda Geller said jointly. "Cheers to all M.A.S. faculty, staff and students who have helped make this program the success that it is!"
The annual U.S. News list of the best online programs is one of the most influential in the country, with ratings derived from five categories of academic quality: engagement, faculty credentials and training, services and technology, expert opinion, and student excellence. Evaluators considered 95 online criminal justice programs for the 2023 report.
UCI's M.A.S. program has graduated more than 595 students who have gone on to pursue doctorates, law degrees or careers as police administrators, educators, federal law enforcement agents, forensic psychologists, etc. Ninety-five students are currently enrolled in the program.
— Mimi Ko Cruz