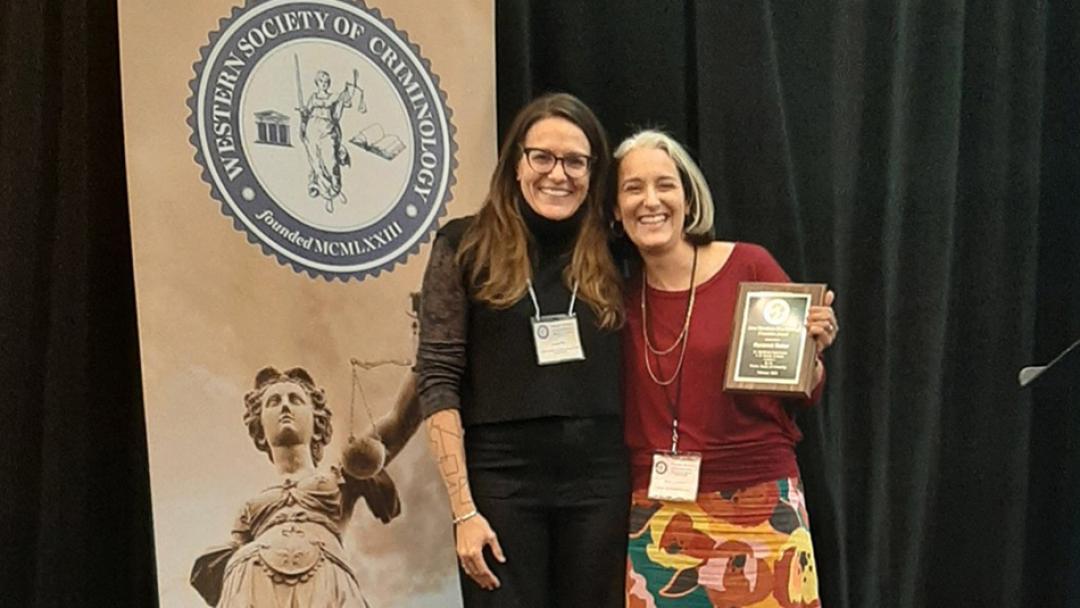 UCI alumna and Western Society of Criminology Vice President Jennifer Macy, left, congratulates Professor Keramet Reiter for winning the June Morrison-Tom Gitchoff Founders Award. Photo by Jon Gould
---
Professor wins June Morrison-Tom Gitchoff Founders Award
For significantly improving the quality of justice, Keramet Reiter, professor of criminology, law and society, has been awarded the June Morrison-Tom Gitchoff Founders Award by the Western Society of Criminology.
"The WSC is full of people I have long admired for pursuing justice through their work, so it was an extra special honor to be recognized for my work by that group," Reiter says.
Reiter studies prisons, prisoners' rights, and the impact of prison and punishment policy on individuals, communities and legal systems. Her work seeks to understand the history and impact of criminal justice policies, from medical experimentation on prisoners and record clearing programs to gun control laws and the use of long-term solitary confinement in the United States and internationally.
She co-founded PrisonPandemic, a project documenting what it's been like for prisoners, their families and prison staff members to be in prison during the COVID-19 pandemic.
Reiter is the director of UCI LIFTED (Leveraging Inspiring Futures Through Educational Degrees), the first in-prison B.A. program in the UC system. The program enables incarcerated individuals at the Richard J. Donovan Correctional Facility in San Diego County to earn a bachelor's degree in sociology from UCI. Today, the first 25 students are enrolled in the program and in the middle of their second quarter.
"We are breaking new ground by providing students behind bars, who are disproportionately of color and come from economically disadvantaged circumstances, access to the University of California, a pathway to earn a four-year degree," Reiter explains. "
LIFTED recently received $1.8 million in state funding to expand.
"The state's support ensures that we can continue to provide the core functions of LIFTED and replicate these vital services throughout California. Through continued community collaboration and individual support, we can expand LIFTED's vital services to impact more lives," Reiter says.
Watch Reiter explain the program on ABC News.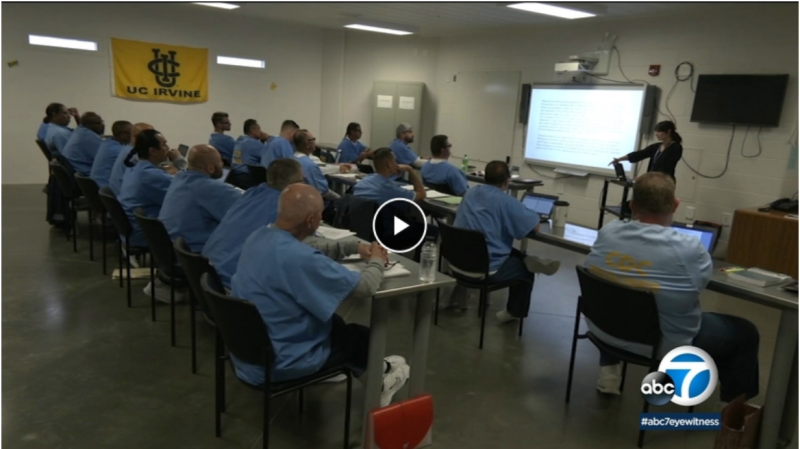 — Mimi Ko Cruz