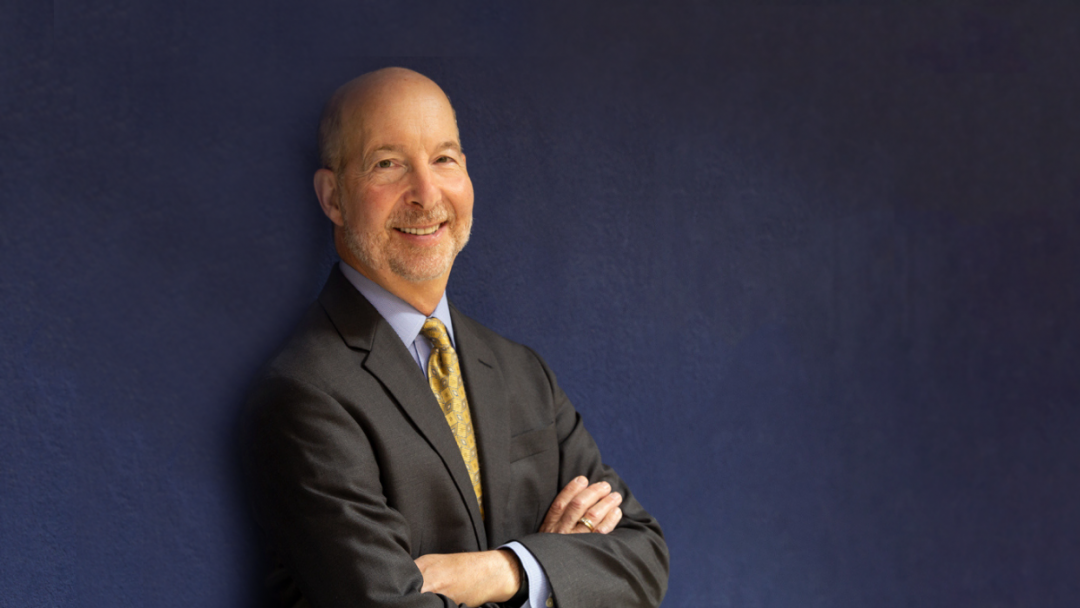 ---
Jon Gould leads nation's first School of Social Ecology
Jon B. Gould has started the year in his "dream job" as the new dean of the School of Social Ecology.
"This has been my dream job for probably a decade," says Gould, who has become the fifth dean of the nation's first School of Social Ecology. "I've known a lot of faculty here for years. My own academic tradition spans criminology, law and society and public policy. So, I've known people from two of the three departments, and I have used research from faculty in Psychological Science in my own work. I've wanted to be part of this place for years, so it's wonderful to get that opportunity."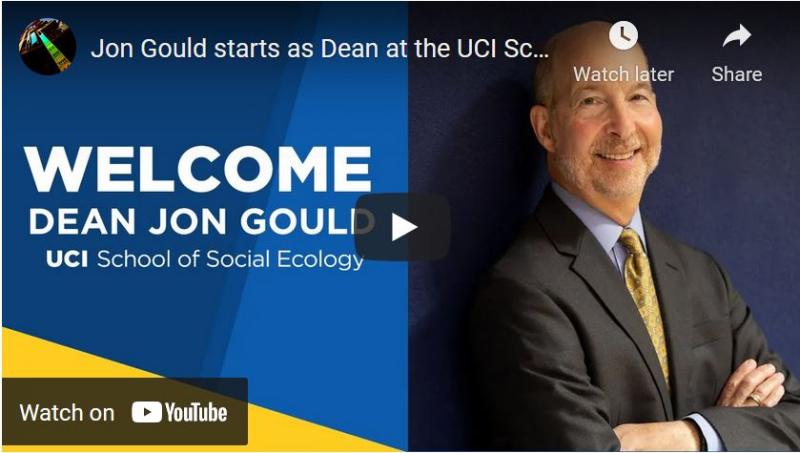 The school, established in 1970 in response to high demand for more socially relevant research, has been an internationally recognized pioneer in developing interdisciplinary approaches to social problems. Its highly ranked faculty in criminology, law and society; urban planning and public policy; and psychological science engage in research and education to foster informed social action and make the world a better place.
Gould, a distinguished scholar in justice policy, social change and government reform, has held key positions in the U.S. Department of Justice, the National Science Foundation, and the U.S. Supreme Court. He has written five books and more than 100 articles on erroneous convictions, indigent defense, prosecutorial innovation, hate speech, sexual harassment and international human rights. His research over the years has been supported by more than $5 million in grants.
He envisions the school taking on the challenge of telling the world about its research and its relevance in society.
"Our school serves a critically important role," Gould says. "Our faculty are doing significant and complex research. They're addressing problems that seem to many people to be insurmountable, but they're providing insight. I think we can be doing more to take that research and translate it so those outside of academe can use it, and we can take the insights and needs of people outside the university to improve the research that we're doing and make it even more relevant."
Gould says social ecology is made up of three elements:
studying social problems and trying to solve them,
doing so through an interdisciplinary lens and
engaging with the community and the world.
"I don't think there has been any time since the school's founding when social ecology has been more important," Gould says. "As a society, we are dealing with tremendous social and cultural change and threats to our environment and, frankly, to our political life as well. Academe has an opportunity and a responsibility to help address these issues through an interdisciplinary approach. This is where social ecology plays such an important function. We not only study problems, we seek to solve them, and we do so collaboratively. Whether the questions involve a just approach to mental health care, a just distribution of water rights or a just operation of the criminal justice system, our faculty are exploring these issues in their research, and we're helping to prepare our students to go out and be change agents."
Before joining UCI, Gould served as Foundation Professor and director of the School of Criminology and Criminal Justice at Arizona State University. Prior to ASU, he was the inaugural director of the Washington Institute for Public Affairs Research and chair of the Department of Justice, Law and Criminology at American University from 2011 to 2019. From 1999 to 2010, he was a professor and director of the Center for Justice, Law and Society at George Mason University just outside of Washington, D.C. Before returning to academe for his Ph.D., he practiced law and was active in international human rights.
Quick facts about Dean Gould
Residence: University Hills, Irvine
Family: Wife Ann Springer, who is joining UCI as an attorney in the General Counsel's Office. Previously, she was Deputy General Counsel of the American Psychological Association and General Counsel of the American Association of University Professors. Their son Michael is studying for a master's degree in human rights at the London School of Economics, and their daughter Emily is a sophomore political science major at Tulane University in New Orleans. They have a two year-old dog Wrigley, named for the baseball stadium of the Chicago Cubs, near to where they lived when the two were first married.
Education: Ph.D. in political science, University of Chicago, 1999; J.D. Harvard Law School, cum laude, 1989; M.P.P. Harvard University, John F. Kennedy School of Government, 1989; A.B. in public policy with highest distinction and highest honors, University of Michigan, 1985
Books by Gould: Transforming Criminal Justice: An Evidence-Based Agenda for Reform (co-editor with Pamela Metzger, 2022, NYU Press); Capital Defense: Inside the Lives of America's Death Penalty Lawyers (co-author with Maya Barak, 2019, NYU Press); How to Succeed in College (While Really Trying): A Professor's Inside Advice (2012, University of Chicago Press); The Innocence Commission: Preventing Wrongful Convictions and Restoring the Criminal Justice System (2007, NYU Press), Named Outstanding Academic Title for 2008 by the American Library Association; Speak No Evil: The Triumph of Hate Speech Regulation (2005, University of Chicago Press), co-winner of the 2006 Herbert Jacob Award for best book in law and society
Favorite book: Babbitt by Sinclair Lewis. "I was required to read this book in high school," Gould says. "It's about a middle-aged guy who has been doing everything he's 'supposed to do' his entire life, and he's not happy about it. Reading this book in high school just struck a nerve about how not to get caught in a life that you don't want and didn't choose. I've remembered this book several times in my own career when I've made transitions."
Favorite movies: "I'm a sucker for a rom-com and snappy dialogue, so some of my favorites include 'When Harry Met Sally,' 'Bull Durham,' and 'Blinded by the Light.' " Having made it through the holiday season, he says, "my family is tired of my re-watching 'Love Actually.' "
Favorite baseball teams: Chicago Cubs (which he has followed since he was six) and Washington Nationals. "I've been a National League fan most of my life," Gould reports, "but I can see a lot to like in the Angels."
Fun facts: Gould has been to all 50 states and more than 55 countries. He's working on his pilot's license. He once was a ski patroller and a sailing instructor and loves to hike. He is also a member of the New Zealand bar, having passed the admission exams in 2018. When at home, he likes to cook and experiment. "I've been trying to master a mushroom Bourguignon recipe," he says, "but my favorite is a scallop dish with a sauce made from two kinds of butter and reduced balsamic vinegar that is to die for."
— Story by Mimi Ko Cruz / Photo and video by Han Parker