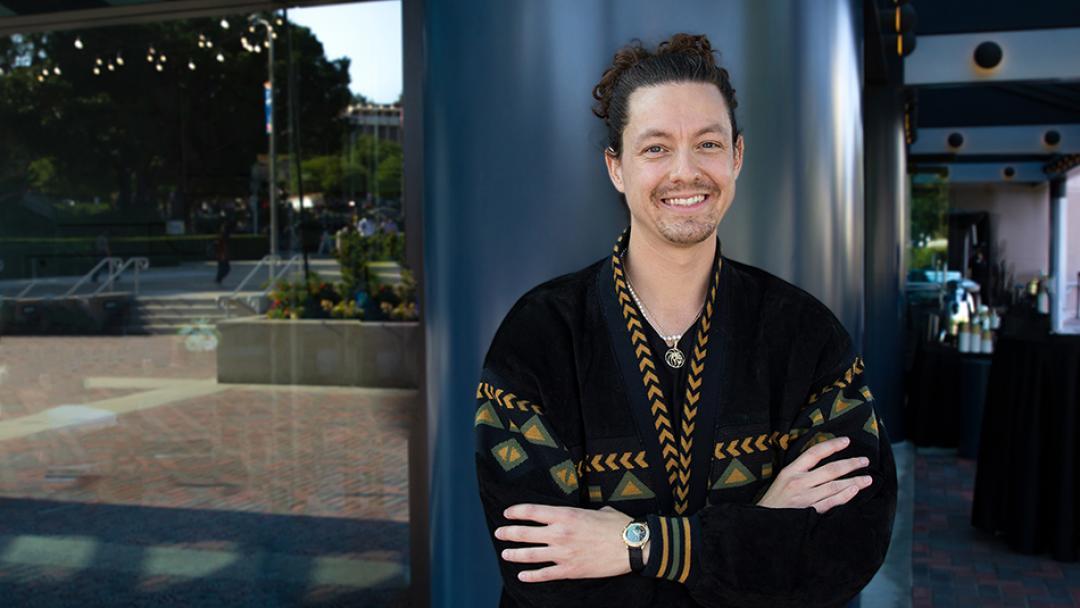 Students' choice for second year in a row
Brandon Golob, assistant professor of teaching in criminology, law and society, is the School of Social Ecology's Professor of the Year for the second year in a row.
The honor is selected by students. The Social Ecology Undergraduate Advising office asked the 2022 graduating class to submit nominations for this year's Professor of the Year honors. Golob received the highest number of nominations.
In the words of students:
"Professor Golob is a wonderful instructor, research advisor, and mentor! He makes his courses accessible to a wide range of students' learning styles and is always willing to work with students to help us succeed. I am very lucky to have had the opportunity to work with him during my time at UCI."
"Always kind and caring with the students and puts their well-being first all while making sure we succeed in the class."
"Dr. Golob is an unbelievable professor who puts his students first. During the pandemic, many issues ensued among students and he is the only Professor to have a mental health week. He deserves this award because he is for the students, and has always provided the best learning experience for students."
"I nominated Professor Golob because he is the most intentional and thoughtful professor on campus. Even before the pandemic he went above and beyond for ALL his students and ever since the pandemic he continues to do so. I have been a learning assistant of his for a year and every quarter, he amazes me through his interactions with his students. Often, I've noticed when professors try to be relatable, they lose the respect of students but Prof G is one of the few professors I have noticed be relatable and have the utmost respect of every student that walks into his class. There is not a single other Professor worthy of this award."
"I have been a student of Professor Golob since Winter '20. Throughout the height of COVID-19, Professor Golob remained compassionate and understanding of students. His classes have reinforced my desire to attend law school and have increased my confidence in doing so. As a first-generation college student who carries various intersectional identities, I feel fortunate to have learned under a professor who is truly caring of the needs of his students."
"I have always heard the saying that 'one teacher can change your life.' However, it was not until I took a class under Professor Golob to truly realize the impact an educator can make.
Professor Golob's teaching gave me different insights and perspectives on how to think of our social issues and laws in comparison to our constitution! I also learned from him what it means to have a voice that can represent me and defend me regardless of what others might believe."
"I nominate this professor because he shows genuine love for what he does. He truly cares for his students and their wellbeing. I have taken three classes with him, and in each class, he encourages everyone to think critically and always makes sure to relate the course material to contemporary events. He provides a safe space for everyone in his classroom. His class structure deviates from the traditional way; it is more interactive and he prioritizes learning over assignments. He makes sure to engage with his students and develops relationships with them even if it is short lived. He is easily one of my favorite professors I have ever taken."
"Professor Golob is THE BEST! He makes learning fun, engaging, and challenging. I knew I made the right choice of attending UCI when I took my first class with him!"
"Professor Golob is the most accommodating and compassionate professor I have ever met, and truly makes his classes engaging and rewarding."
"Prof G is a caring and understanding professor. He cares about the success and well-being of his students and believes that we are all capable of greatness. He is amazing."
"I had the awesome opportunity to participate in Professor Golob's courses twice last year, one of them being my upper division writing and field study merged course. I was motivated to complete this field study and upper division writing with Professor Golob because of the great experience I had during my C100 course."
"Professor Golob fosters a safe and equal learning environment both inside and outside the classroom, he offers support and empathy to all students, his provided learning material always varied to help appeal to student's preferred methods of learning. Professor Golob always took student's concerns and suggestions into consideration to help his classes and assignments be more manageable especially during pandemic stresses. Professor Golob always made it known that he was here to support his students and always offered great feedback to our assignments!"
"Being recognized by my students is special to me because they are the ones who commit to the important academic and self-work that our courses require," Golob said. "This work has been particularly demanding during the pandemic years and I continue to be in awe of our students' intellectual, social, and personal growth."
Getting the Professor of the Year honor two years in a row is a testament to Golob's extraordinary teaching and mentoring prowess, said Dean Jon Gould. "We are proud to have him in our school and we commend him for his outstanding, inclusive and engaging teaching style."
Golob joined UCI's faculty in 2018. His research and teaching focus on the ways legal concepts are communicated to non-lawyers. Both inside and outside the classroom, he examines how legal knowledge is translated to laypeople through mediated and face-to-face communication.
He received his dual B.A. in rhetoric and interdisciplinary studies from UC Berkeley, his J.D. from the UCLA School of Law, and his M.A. and Ph.D. in communication from USC's Annenberg School for Communication and Journalism. Building from this diverse educational background, he seeks to create interdisciplinary classrooms that integrate the most effective pedagogical practices from a multitude of fields.
Past Professor of the Year recipients:
---
Contact:
Mimi Ko Cruz
Director of Communiations
949-824-1278