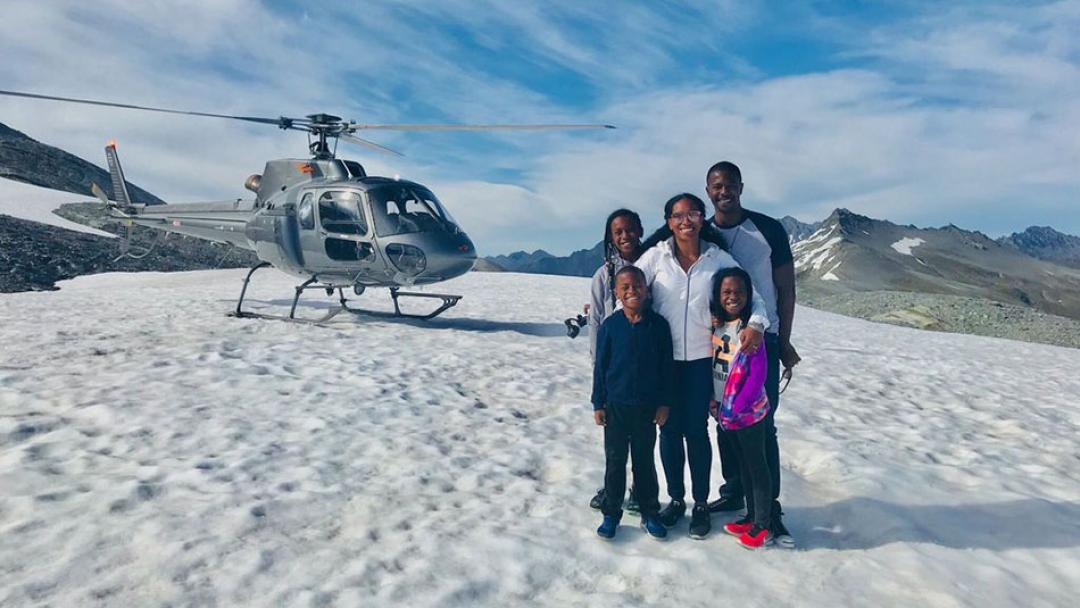 ---
He had a big, beautiful home. His family was happy. His three young kids were excelling in school. His business was thriving. But, something was missing.
It was the end of 2017 and entrepreneur Jermaine A. Griggs says he came to a profound realization: "these are our best years together and we shouldn't spend this time trapped in what society wants us to do."
So, he reflected on the advice he offered University of California, Irvine graduates as the keynote speaker during commencement that year: "What if? So many people have made up their minds what is possible for them to achieve and they stop using their imaginations. They stop what if-ing. If you go into your life ahead with predetermined answers, you'll only come out with more questions. But, if you go in with questions, open-mindedness, curiosity, you just might come out with better answers and clarity."
Soon after that speech, Griggs asked: "What if we could travel the entire world with our children while we learn together and spend our most vibrant years creating unforgettable memories?"
That's when the Griggs family sold their dream house and set off for a year of travel around the world. They learned about the people, cultures and history of the places they visited — including Africa, Belgium, Cambodia, Egypt, France, India, New Zealand, Sin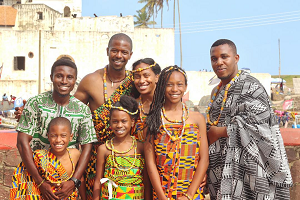 gapore, Thailand and 27 other countries.
The experience exposed them, especially the children, to "a broader world, expanding their vision, giving them a heart for all people, diversifying their thinking, and becoming well-rounded individuals," says Griggs, who earned his bachelor's degree in social ecology at UCI in 2005. "While the world is huge, it's also small. Fun is universal. Smiling and laughing, also universal. We believe when you've met, fellowshipped and laughed with someone on the other side of the world, then politics, war, media and global agendas won't be able to influence you as readily."
The trip also was a lesson on compassion.
"I come across so many political conversations about what's ours and how to protect ourselves — this prevailing theme of 'us vs. them.' I think at the root of all of this is fear and I believe fear is the opposite of love and compassion," the 37-year-old Griggs says. "By getting outside of one's comfort zone, that fear diminishes, leaving room for love and compassion to fill one's cup. Regardless of what my children go on to do in their adult lives, if we haven't instilled compassion, we have failed as parents. It really is that important to us."
From Humble Beginnings
Griggs grew up poor in Long Beach with his grandmother, younger sister and single mom, who worked two jobs to make ends meet.
He remembers how his grandmother loved playing the piano she had won as a contestant on the game show "The Price is Right." And, he loved accompanying her, banging on pots and pans.
Soon, he hopped on the piano himself and "stumbled across chords by playing every other note," he recalls. "That progressed to playing tunes from Disney movies that my younger sister watched incessantly during the summer. I remember 'Under the Sea' from the 'Little Mermaid' as one of my first self-taught masterpieces."
By age 12, he was performing at neighborhood churches. He learned to read sheet music as a clarinet player in junior high and, at 16, he started the gospel choir at Long Beach Poly High School.
"I took a music theory class and this gave me the tools to fuse my unorthodox 'playing by ear' strategies with academic theory," Griggs says. "Combined with other books I'd check out of the library, I had meshed together a unique method that used unorthodox approaches and traditional theory. The rest was history!"
Indeed.
While still a high school student, Griggs created Hear and Play Music, a music instruction company, and started teaching neighborhood kids. Then, in 2002 during his freshman year at UCI, he turned his company into a multimillion-dollar business, teaching hundreds of thousands of people how to play piano and guitar by ear.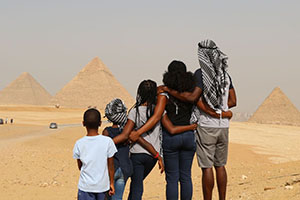 The first in his family to attend college, Griggs today runs two highly successful businesses: Hear and Play and Automation Clinic, a marketing advice service for entrepreneurs. Grateful for his prosperity, he funds various philanthropic efforts, including Operation Jump Start, which helps students from humble backgrounds get into and graduate from college, and other social justice and charitable organizations.
Next up: Griggs is considering writing a book about his year-long travel experience or furthering his studies in ancient history, which he finds fascinating. "I've been infatuated with ancient African history and spirituality since returning from the continent," he says.
Fun Facts about Jermaine Griggs
Residence: Aliso Viejo
Hometown: Long Beach
Family: Wife Sarah and children: Jadyn, 12; Layla, 9; and Brendan, 8
Businesses: Hear and Play Music and Automation Clinic
Education: B.A. in criminology, law and society, UCI, 2005.
On UCI: "Being a first-generation college student, UCI and its environment was a breath of fresh air for me; a welcomed change from the rougher surroundings endured in my youth. It was a place to explore ideas, build my business (in the dorm room), learn about myself, and ultimately reach the goal of graduating in 4 years. Also, a marketing professor who had been a part of building a hundred-million dollar company became an incredible mentor and friend, who attended my wedding. Learning about the Innocence Project in criminology shaped how I viewed the justice system and how I sympathize with wrongful convictions."
On his field study: "I got to see the inner workings of a video security firm and how it interacts with organizations and investigations."
Favorite music: Gospel, jazz and soul.
Hobbies: Playing piano and chess, reading philosophy and history, exercising and creating business.
Favorite quote: "The ultimate measure of a man is not where he stands in moments of comfort and convenience, but where he stands at times of challenge and controversy," by Martin Luther King Jr.
Favorite book: "The Alchemist" by Paulo Coelho.
Advice to college students: "You are there for more than to get a grade. Harness all the opportunities presented to you and don't trap yourself in a box. Take advantage of office hours, join clubs, meet and debate about the world with fellow classmates. Follow your passions and let your curiosity lead you. Don't see college as a means to an end. Enjoy the journey."
What matters: Watch the conversation between Griggs and Nancy Guerra, dean of the School of Social Ecology, on what matters to him and why.
"What If": Watch Griggs' commencement speech at UCI.
World travel log: Griggs chronicled his 12-month educational journey around the world on Instagram, Facebook and YouTube. "We 'worldschooled' as we learned about different cultures, histories, geographies. It was an experience of a lifetime."
— by Mimi Ko Cruz