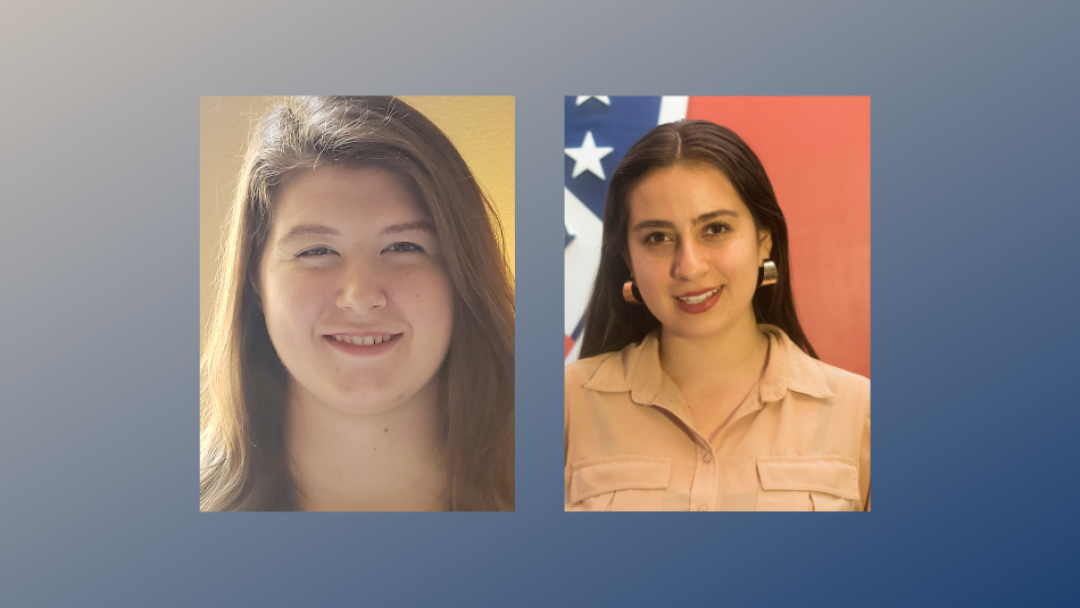 ---
Criminology, law and society majors Jocelyn Evens and Jasmine Guadalupe are honored
A pair of criminology, law and society majors — Jocelyn Evens and Jasmine Morales — have been named this year's Fudge Scholars.
Philanthropist Gary Fudge established the scholarship in 2012 to help students overcome hardships and complete their degrees.
Jocelyn Evens
Born with a heart condition, blindness in one eye and partial blindness in the other, her vision for her future is undeterred. A junior in the campus honors program, Evens, raised by her single mother, plans to earn a master's degree after she completes her bachelor's degree and hopes to pursue a career working for an anti-terrorist organization.
"School and making sure I get the best education has been my life because I know that it is the foundation for the career that I aspire to have," Evens notes. "I want to be able to give back to my community and the free and protected country that I am so grateful to live in. My wish is to be one of the people who helps the country in protecting people by stopping those who wish to hurt it. Attending and earning my degree from UCI is the best thing for me and it is the best chance I have at attaining my career goals. My visual impairment is a personal challenge that I have to be aware of every second of every day. But, I learned at a very young age that it was something that was unique about me and something that could either hold me back or push me. I chose to have it be something that pushes me to pass limits that people do not expect me to exceed."
Jasmine Morales
Morales plans to become an attorney and fight for civil rights for marginalized communities. She says her mother and grandmother call her a guerrera (Spanish for warrior) and instilled in her a desire to pursue higher education. She is the first woman in her family to do so.
"The women in my family have been oppressed in a variety of ways, but they have shown great strength and resiliency," Morales says. "Like them, I am a guerrera, and their strength radiates through me. As a first-generation college student and a daughter of immigrants, I strongly value my education. I will make the best out of the opportunities I have in this country because I know my parents worked hard for me to be here. Through research, mentorship, and volunteer work, I have been committed to helping others end oppression."