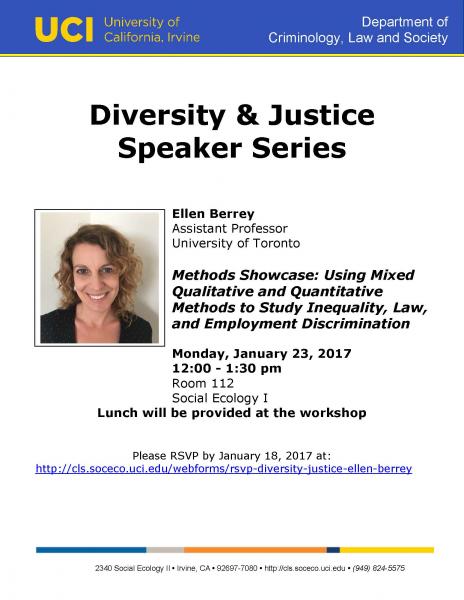 January 23, 2017
Workshop Flyer
12:30-2pm
SE I 112
Workshop is restricted to UCI faculty and graduate students only.
"The Enigma of Diversity" Book Talk
6-8:30pm
Law 3500 Conference Room
Cosponsored by the School of Law and the Department of Criminology, Law and Society
Please Save-the-Date: For the Diversity & Justice Speaker Series featuring, Ellen Berry, Assistant Professor at the University of Toronto.
Dr. Ellen Berrey will present the argument and multi-methodological approach of her forthcoming book, Rights on Trial: How Workplace Discrimination Law Perpetuates Inequality (with Robert L. Nelson and Laura Beth Nielsen, University of Chicago Press 2017). The presentation will be followed by a conversation about using qualitative and mixed methods to study law and inequality. Please free to bring questions about the design and methods of your own research projects.
Please RSVP by January 18, 2017.
RSVP for the workshop.
We look forward to seeing you there.